Do you suffer from uncomfortable bloating symptoms or indigestion after eating?
We can help you discover your food intolerances and nutrient deficiencies in less than 7 days!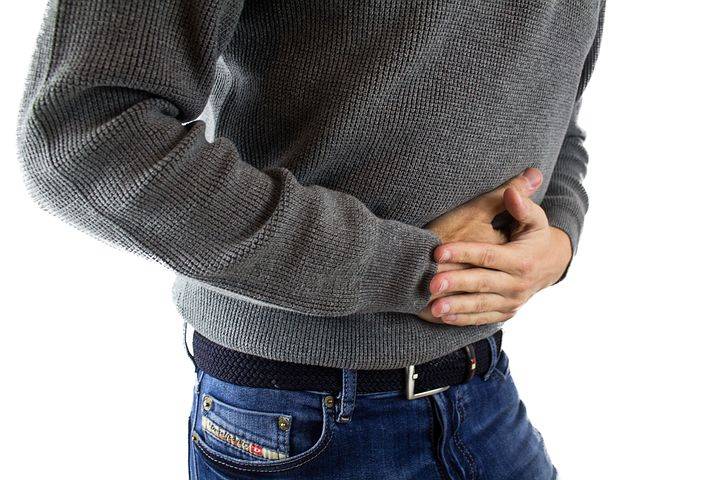 WE HAVE THE SOLUTION FOR YOU
We use the most advanced bioenergetic testing machine to test for any food intolerances and nutrient deficiencies you might have. All we need is a hair or nail sample, so we can test you wherever you are based and there is no need to travel around or wait weeks for results.
It's as simple as sending us a hair or nail sample in the post and waiting for your results and Personal Nutrition Plan to be sent from your Nutritionist, Beth Cook. Hair or nail samples can store information for up to 3 months or more and are not affected by your last meal, like some blood tests are.
The test involves a full analysis of your health in relation to over 200 food and drink items and any vitamins, minerals, enzyme and any amino acid deficiencies you might have.
The results from the health screening help us to provide you with diet and lifestyle recommendations to promote healing and wellness.
Take The Guesswork Out Of it!
Let us help you understand exactly what to do with your very own Personal Nutrition Plan from Beth Cook. You will have the answers so you no longer have to guess what foods are causing you issues and we'll be there to help guide you.
Know What Foods you CAN Eat
By knowing and eliminating your food intolerances, you can start to feel better again. Let us help you understand what you can eat and therefore take back control of how you feel.
And What Foods You Are Best Avoiding
Discover your food intolerances so you can finally stop the bloating, uncomfortable indigestion, tiredness etc in less than 7 days, so you can get back to being YOU!
See What Some of Our Customers Say

"I became aware that I had a lot of deficiencies even though I thought I'd been eating well. I actually needed to start eating a bit differently, specifically including things I was missing. When I started taking the recommended supplements and followed the recommended protocol, I actually found that I started feeling a lot better....I actually found that when I reduced and removed the intolerances that came up from my test from my diet, I felt that I had a lot more energy, I even felt less anxious. What I found when I was eating the foods that I was intolerant to before, that I would suddenly get very tired and feel a bit off. So when I removed that I stopped having moments like that and that was amazing, that was a huge change"
"So I was recently referred to Ultimate Blend by a friend because I was having trouble sleeping and I guess had concerns over how best to support my immune system. Well it turned out through having a nutrient deficiency test that I was deficient in quite a lot of vitamins and minerals. So I've been taking a daily Vitamin C now for a few weeks to help support my immune system and a Multivitamin to basically ensure my deficiencies are covered. Well after a few weeks I do feel a lot better. I feel more focused in the day and definitely see my skin is more clear and softer….so thanks Beth, I love that I now have a place I can come not only for supplements but nutritional support"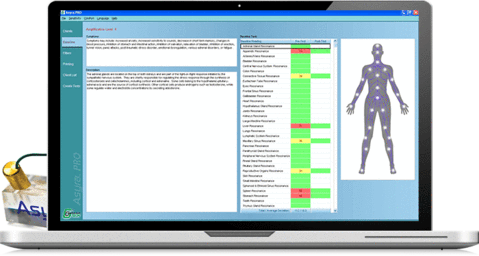 The basic protocol consists of an energetic assessment of your body. Hair/nail samples are tested with known frequencies of foods and vitamins and minerals. Disturbances and dis-resonances are picked up on all levels, structural, biochemical, energetic and emotional. The Asyra then searches through its database, finds what it needs to restore the waveforms so that resonance occurs and reports back on your health status, in order of importance. It stops the 'wobble' by identifying what the body needs and what it should avoid, so that our body can be in a more balanced state.
Food Intolerances and Nutrient Deficiencies Tested
The Food Intolerance and Nutrition Test involves a full analysis of your health in relation to food and any deficiencies you might have, including:
- Food sensitivity/intolerance, testing over 200 different food and drink items!
- Nutrient deficiency check of vitamins, minerals, enzymes and amino acids
- A full report and clear explanations of your results, identifying the food/s you would be best avoiding and what vitamin and/or mineral deficiencies you have.
- A detailed Personal Nutrition Plan, identifying what supplements your body needs and steps to follow to help you on a healthy, happy wellness journey.

What Food and Drink Sensitivities Are Tested?

MSG, Sodium Nitrate, Sodium Sulphate and Food Colours
Beer, Caffeinated Drinks, Carbonated Drinks, Cocoa/Chocolate, Coffee, Herbal Tea, Tea and Wine
Baking Powder, Baking Soda (Bicarbonate of Soda), Corn, Starch, Gluten, Gelatine, Ketchup, Mayonnaise, Soy Sauce, Tofu, Vinegar and Flour
Butter, Processed Cheese, Cheddar Cheese, Feta Cheese, Mozzarella Cheese, Parmesan, Ricotta and Swiss Cheese, Cottage Cheese and Cream Cheese, Egg Whole, Egg White, Egg Yolk, Ice Cream, Margarine, Cow's Milk, Rice Milk, Soya Milk, Yoghurt and Whey
Bass, Clam, Crab, Flatfish, Haddock, Halibut, Lobster, Mackerel, Oyster, Sole, Salmon, Sardine, Scallop, Shellfish (all), Shrimp, Trout and Tuna
Apple, Apricot, Banana, Blueberry, Cantaloupe, Cherry, Coconut, Date, Fig, Grape – red & green, Grapefruit, Guava, Kiwi, Lemon, Loquat, Lychee, Mango, Orange, Papaya, Peach, Pear, Plum, Prune, Raisin, Raspberry, Strawberry, Tangerine and Watermelon
Barley, Corn, Flour-Processed, Flour-Soya, Flour-Wheat, Gluten, Millet, Oats, Rice, Rye, Spelt, Wheat Bran, Wheat Germ and Whole Wheat
Black Bean, Chickpea, Kidney Bean, Lima Bean, Navy Bean, Pinto Bean, Soya Bean and Lentils
Basil, Bay Leaves, Celery Salt, Chives, Cinnamon, Cloves, Cumin, Dill, Garlic, Ginger, Marjoram, Mint, Mustard, Nutmeg, Oregano, Paprika, Parsley, Pepper-Black, Pepper, Pepper-Red, Pepper-White, Poppy Seed, Rosemary, Salt-Iodized, Salt-Raw, and Thyme
Beef, Chicken, Duck, Lamb, Pork and Turkey
Almond, Brazil Nut, Cashew Nut, Macadamia Nut, Peanut, Pine Nut, Pecan Nut, Pistachio, Sesame Seed, Sunflower and Walnut
Canola, Corn, Hydrogenated, Olive, Sesame, Soy, Sunflower and Vegetable Oil
Aspartane, Brown Sugar, Cane Sugar, Corn Syrup, Chocolate, Demarera, Fructose, High Fructose Corn Syrup, Honey, Molasses, Molatol, Rice Syrup, Saccharin, Sorbitol, Splenda, Stevia and Turbinado Sugar
Vegetables (including Salad Vegetables)
Beet, Cabbage, Carrot, Cauliflower, Celery, Corn, Egg Plant (Aubergine) Garlic, Mushroom, Olive, Onion, Pepper – green, red and yellow, Potato, Pumpkin, Radish, Spinach, Squash, String Bean, Sweet Potato, Tomato, Yam (Sweet Potato) and Zucchini (Courgette)

What Vitamin and Mineral Deficiencies Are Tested?

Valine, Tyrosine, Tryptophan, Threonine, Taurine, Proline, Phenylalanine, Ornithine, Isoleucine, Histidine, Glycine, Glutamine, Aspartic Acid, Arginine, Alanine, Methionine, Lysine/L-Lysine, Cysteine/L-Cysteine, Inosine, Glutamic Acid, Carnitine, Andenosine, L-Carnitine, Creatine and Leucine.
Maltase, Lactase, Invertase, Cellulase, Lipase, Amylase, Protease and Hydrochloric Acid
Flax Seed Oil, Omega 3, Omega 6, GLA, Evening Primrose Oil, ALA, EPA, DHA, Blackcurrant Seed Oil and Borage Seed Oil
Zinc, Selenium, Sulphur, Potassium, Phosphorous, Manganese, Iron, Magnesium, Chromium, Calcium, Boron, Iodine and Copper
Acidophilus, Bee Pollen, Antioxidants, Choline, Co Q10, Dietary Fibre, Chlorella, Spirulina and Trimethylgycine
Vitamin A (Beta Carotene), Vitamin B 1 (Thiamine), Vitamin B12 (Cyanocobalamin), Vitamin H (Biotin), Vitamin D, Vitamin B2 (Riboflavin), Vitamin B9 (Folic acid), Vitamin K (Menadiol), Vitamin B3 (Niacin), Vitamin B5 (Pantothenic acid), Vitamin B6 (Pyridoxine), Vitamin C (Ascorbic acid), Vitamin K3 (Menadione), Vitamin K2 (Menatetrenone), Choline and Inositol

Common Health Issues That Can Be Resolved Through Bioenergetic Testing
- Hair loss
- Digestive problems e.g.: constipation, bloating, IBS
- Overweight or underweight; difficulty losing weight
- Headaches and migraines
- Persistent tiredness and lack of energy
- Joint aches and arthritis
- Cardiovascular illness e.g. high blood pressure
- Mood swings, depression and lack of motivation
- Frequent colds and infections
- Skin problems e.g. acne, eczema, dry flaky skin,
- Thrush and candidiasis
- Food sensitivities and adverse reactions
Book our test and receive detailed instructions on how to take your hair or nail sample and where to send it.
Post your hair or nail sample to us and wait only 5-7 days to receive your life changing results.
Avoid your highlighted Food Intolerances and follow your very own Personal Nutrition Plan.
The basic protocol consists of an energetic assessment of our major organs and systems by holding onto two brass hand masses (or the practitioner testing with a client's hair or nail sample) It painlessly 'pings' the body (or DNA from the sample) with known frequencies of 1000's of nutritional factors, pathogens as parasites, fungi and bacteria, cell salts, homeopathic remedies, herbs and more.
Disturbances and disresonances are picked up on all levels, structural, biochemical, energetic and emotional. The Asyra then searches through its database, finds what it needs to restore the waveforms so that resonance occurs and reports back on your health status, in order of importance.
It stops the 'wobble' so that our energies can be used more effectively!
Is the Asyra test safe for everyone?
Yes because we test remotely, using a hair or nail sample.
The imprinted remedy is automatically tailored to the age of the person being tested so it's perfectly safe.
What does it actually measure?
The Asyra measures the changes in electrical resistance across the skin barrier, in response to signal outputs from the system.
The same principle as a lie detector.
Can you test my child or even my pet?
Yes, we can test in exactly the same way, using a hair or nail sample.
What vitamin and mineral deficiencies are tested?
Please see these on the main page.
What food sensitivities are tested?
Please see these on the main page.
What should I do if I need further explanation of my results?
Because we are busy testing we would need to arrange a time to discuss your results. We are always happy to follow up with email enquiries regarding your results. If you require added support and would like to arrange a 15-minute phone consultation, you will need to make a payment of £20 into the Paypal account: info@ultimateblend.co.uk and then email us at the same address to arrange a suitable time. Please make the payment before contacting us to arrange a time to speak.
If my results suggest I am deficient in some vitamins and/or minerals, what should I do?
Many of us due to poor food choices and the lack of vitamins and minerals left in our food, require extra supplementation. It is very important you choose good quality vitamins and minerals, buying cheap often means they just won't work! We provide food based, 100% natural supplements with no GMO's and no added fillers or binders.
Is the machine a registered device?
Yes. In Europe it is registered as a class 1 medical device.
My hair is dyed, will it effect my results?
No, the test is completed on the DNA of the hair sample so hair colouring will have no effect on the result.
Understanding your results is best done with your practitioner. If however you have opted for surrogate testing (where you have sent in a hair/nail sample) they may seem a little confusing.
You will notice a variety of different colours on your report:
RED: indicates something that is causing stress to the body, not unlike an inflammatory process. Often considered to be an acute or recent issue.
YELLOW: indicates something that is causing weakness, similar to a more degenerative process and often considered to be a more chronic issue. In food tests in particular, yellow is considered worse than red.
GREEN: indicates the 'balancing item' – this usually indicates that on a physical level this is causing an issue (e.g if gluten is next to a green box, your body may be intolerant to it at this time. It is therefore best avoided for 2 weeks) but on an energetic level (if you are also having our homeopathic remedy) it will help bring your body back into balance.
You may also see numbers on your report. This is a scale used to indicate how out of balance something is. A normal reading would be between 45 and 55. Anything with a number below 40 or above 80 is a more concerning issue (e.g if a food test displays cows milk as 80 and above, or 40 and below, this would be best avoided)
How accurate are my results?
There is now ample evidence to support the accuracy of bio-energetic testing. Please click here for further information on The Asyra Pro.
Do you accept orders from abroad?
Yes; orders are accepted worldwide. All reports are emailed, so you only have to send a hair or nail sample through the post.