Are you wanting to improve your health and ensure you're having the right vitamins?
Our Multivitamin & Minerals capsule suitable for men and women is a combination of 24 bioactive Vitamins & Minerals that have been carefully selected to support you on a daily basis. Some of the health benefits are reduction of tiredness and fatigue; maintenance of normal immunity; maintenance of normal bones, teeth, hair and skin; and maintenance of normal muscle function.
Bridge The Nutritional Gap
Even the healthiest eaters sometimes come up short on essential vitamins and minerals. Ultimate Blend Multivitamin Supplement fills those shortcomings. Packed with 24 bioavailable ingredients, this high-strength formula ensures that your body receives all the nutritional support it needs for a robust and rewarding life.
More Support in Every Capsule
This nutritionally balanced, food-based supplement includes Vitamins A, C, D3, E, K, B7 and B12 plus Magnesium, Zinc, Biotin and Calcium. It provides complete nutritional support with antioxidant and anti-inflammatory protections of organs, joints and the brain. By warding-off free radicals and the oxidative stress they put on your circulatory, cardiovascular and respiratory systems, Ultimate Blend Multivitamin and Minerals Supplement supports everything from joint health and digestion to cognitive function and mood.
Our unique blend of vitamins and minerals has been meticulously prepared in a capsule form that offers enhanced absorption when compared to tablets. Our capsules dissolve quickly in the stomach to send beneficial nutrients coursing through your body. Free of artificial flavours, colours, preservatives and fillers, Ultimate Blend Multivitamin contains only premium ingredients, focused solely on your good health.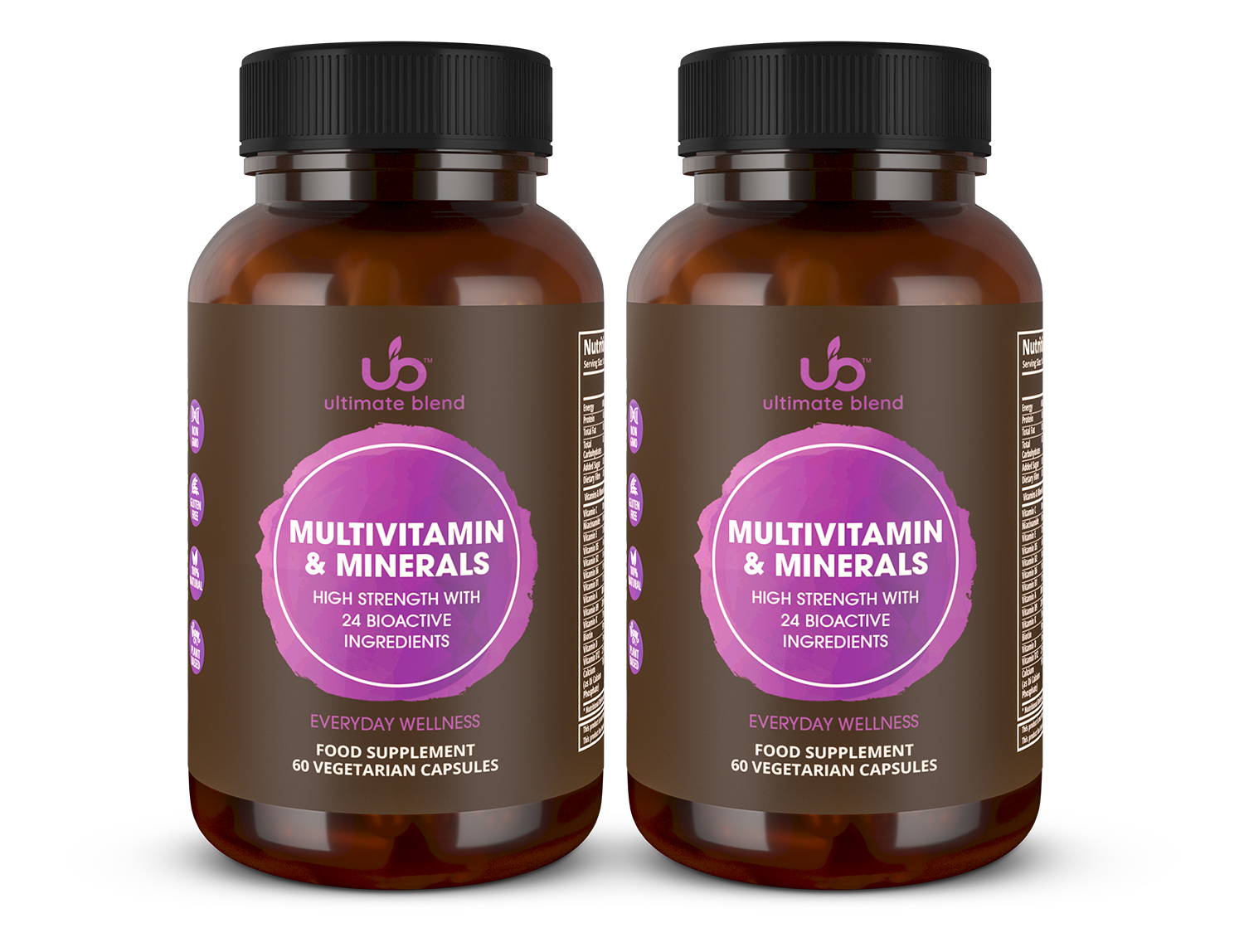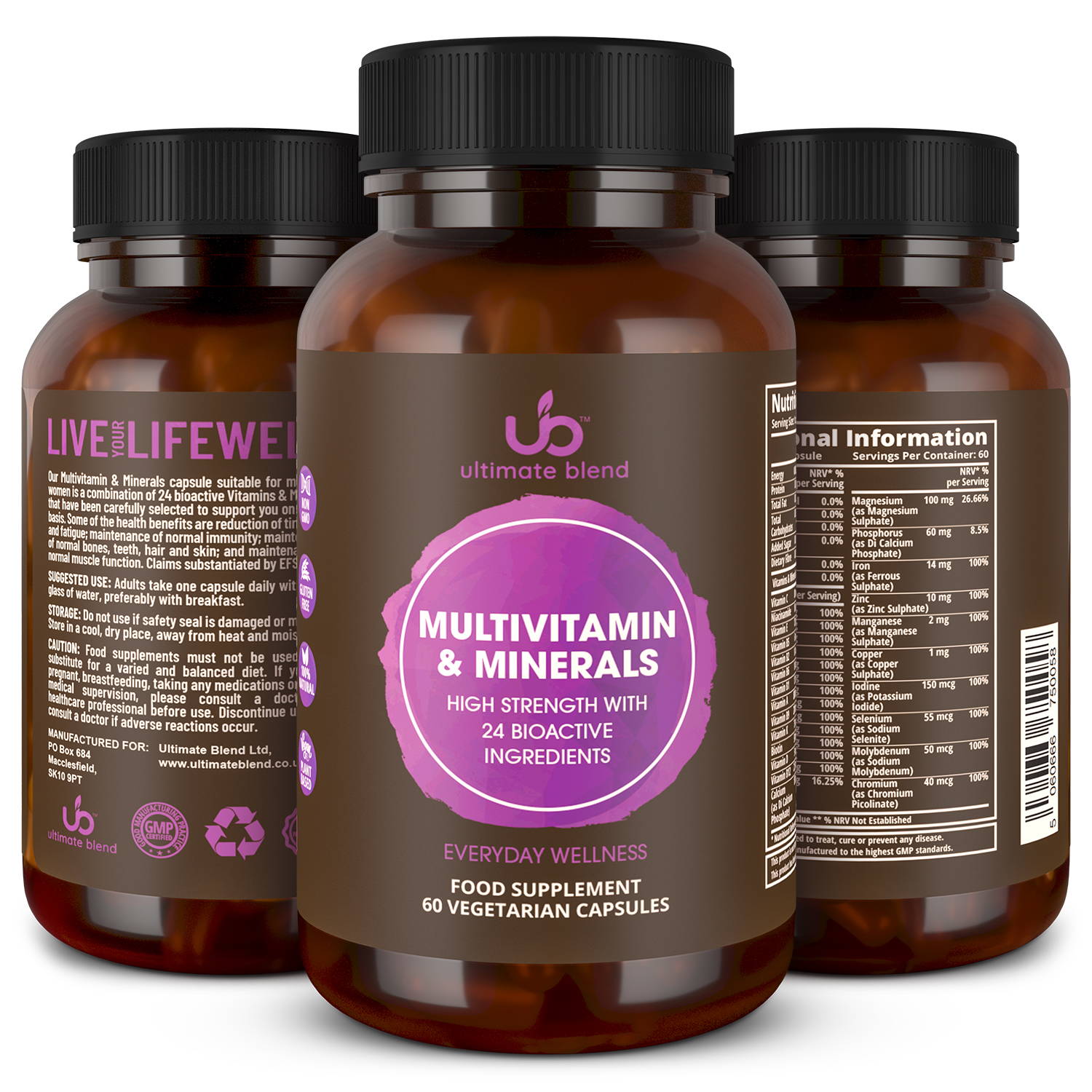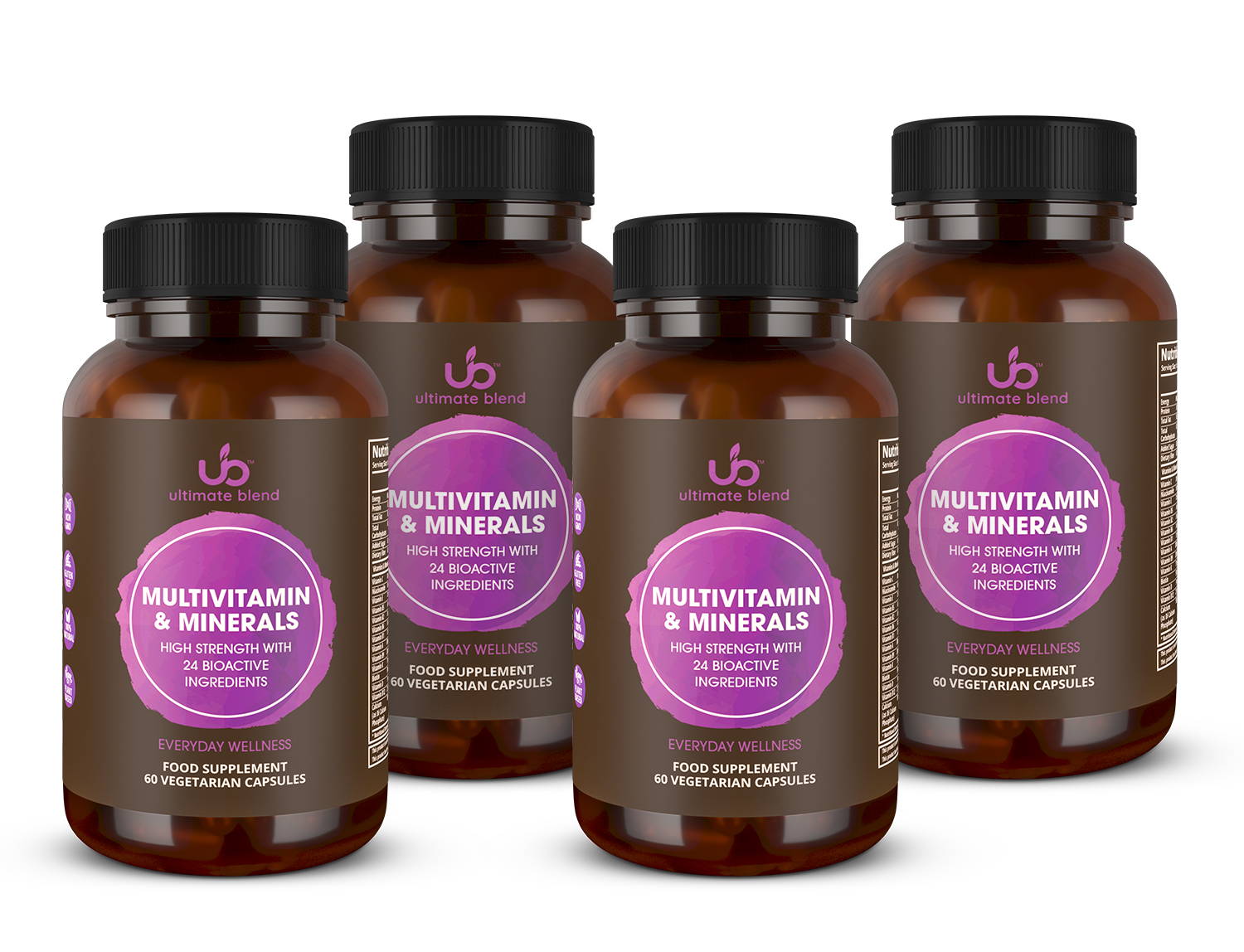 See What Our Customers Are Saying About Multivitamin & Minerals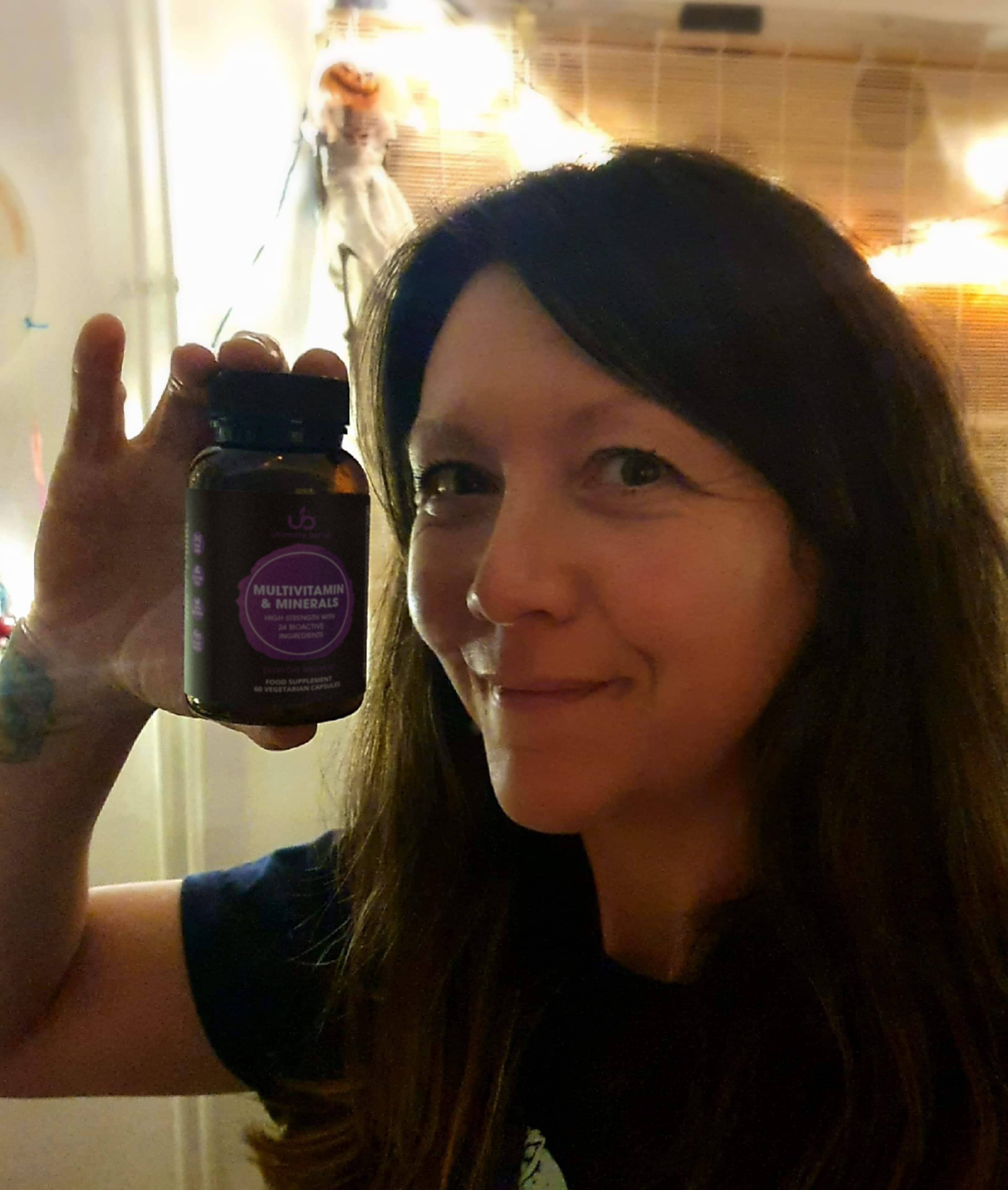 "I take these Multivitamin & Minerals everyday because being a busy mum II feel my diet it often lacking in goodness. The amount of nutrition that is in this product is unreal. It's great value for money for what is in the product and I love that it's Vegan!"
Keziah
28 NOV 2020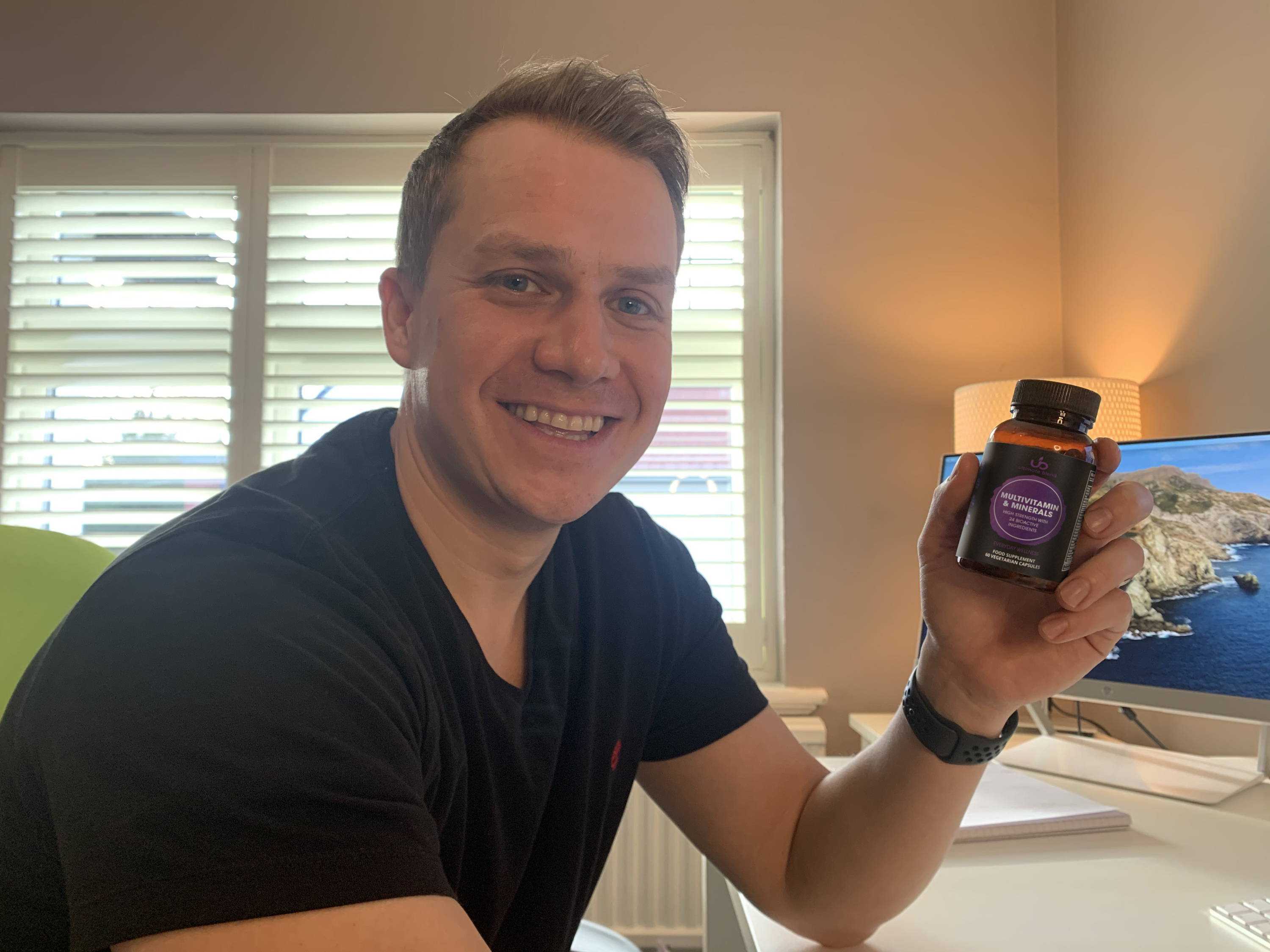 "For me, this product ensures i'm providing my body with everyday essential nutrition. I do eat well but I also train really hard and so feel I need that extra nutritional boost. Love the product"
Simon, C
2 DEC 2020
"I was suffering with skin breakouts when Beth asked me about my diet and recommended this product. Honestly, within a week of taking this my skin improved massively so it's definitely going to continue to be part of my morning routine"
Tracy, W
5 DEC 2020
Written by
an anonymous user
on
Customer Reviews
based on reviews
There are no customer reviews yet.
Thank you for submitting your review. Once it is approved, your review will show up in the list of reviews.
Submitting your review failed. Please try again.
Multivitamin & Minerals is 100% vegetarian-friendly, non-GMO, gluten-free, dairy-free and wheat-free. It contains no artificial flavours, colours, preservatives or fillers. Our high-quality ingredients work together to re-establish balanced nutrition within your body.
Manufactured to GMP Standards
Multivitamin & Minerals undergoes rigorous 3rd party testing to ensure product potency and consistency. This ensures your highest-performing self with every dose.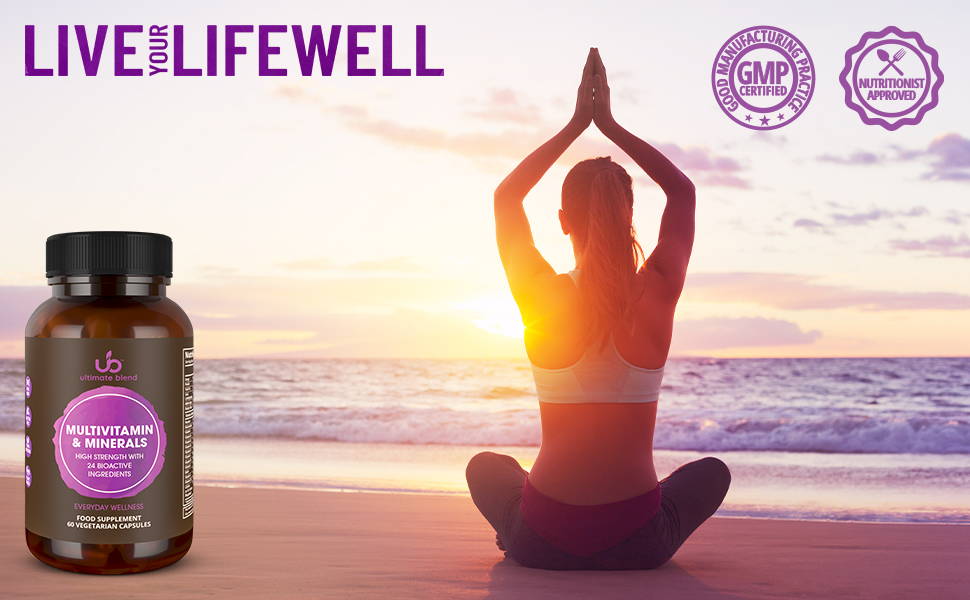 Ensure that your body gets the full spectrum of nutritional support. Add Ultimate Blend Multivitamin & Minerals Supplement to your wellness products today.
How long do they take to be delivered?
Delivery is Royal Mail 48 Hours Tracked so please allow 2-3 working days for delivery. You can track your item with the tracking details provided at checkout.
What are the ingredients?
Vitamin A
Vitamin A is fat-soluble and can build up in the body. It is known as the moisturising vitamin as it is essential in keeping the mucus membranes moist. Mucus membranes line the nose, mouth, eyes, throat, rectum and vagina. Vitamin A also helps to promote healthy bones and teeth and helps our bodies to fight off infections. It is also vital for growth.
Vitamin D3
Vitamin D is a fat-soluble vitamin that helps the body absorb calcium, so is vital for bone and tooth health. It has been found to have a significant role in regulating cell growth, supporting immune function and the production of insulin.
Vitamin E
Vitamin E keeps the muscles, reproductive system and nerves in good working order. It is an antioxidant that can be found in face creams. Vitamin E also helps keep the heart healthy and is instrumental in supplying oxygen to the body. It is known for its blood thinning ability and has been found to be helpful for women during the menopause and beneficial for hot flushes and sweating.
Vitamin K
Vitamin K is a fat-soluble vitamin essential for blood clotting. It helps wounds to heal more quickly and is thought to be needed to build strong bones.
Vitamin C
Vitamin C is essential in maintaining healthy connective tissue in the body. It speeds up cell renewal, which in turn means that wounds are able to heal quickly. It is needed for the body to absorb iron and is an antioxidant. It has a prominent role in detoxification and immunity. As well as protecting the immune system, vitamin C helps the body fight off infections.
Thiamine
Thiamine (also known as vitamin B1) is an important nutrient for taking energy from food and turning it into energy for your brain, nerves and heart. It is needed by the body to process carbohydrates, fats, and proteins, but it is most important for how we process carbohydrates (sugars and starches).
Riboflavin
Riboflavin (also known as vitamin B2) plays an important role in helping the body to break down the nutrients in food.It helps the body convert complex carbohydrates, fats, and protein into forms that the body can use. It also helps maintain your adrenal gland, which responds to stress and helps maintain proper functioning of the nervous system.
Niacin
Niacin (also known as vitamin B3) is involved in energy production, fatty acid synthesis and antioxidant functions. It also helps regulate blood glucose. Therapeutically, nicotinic acid, a form of niacin can be used to lower cholesterol levels.
Vitamin B6
Vitamin B6 is also known as pyridoxine. It helps the body process and release energy from proteins and fat. It is essential in ensuring that the body gets the energy and nutrients it needs from food. It also helps the body to form haemoglobin (the substance that carries oxygen around the body), is key to sex hormone function and is often prescribed for menstrual difficulties including PMT.
Folic Acid
Folic acid (more commonly known as vitamin B9) is vital for foetal growth and the development of healthy nerves, cells as well as protein metabolism.
Vitamin B12
Vitamin B12 keeps the nervous system healthy. It helps release energy from food and is essential in processing folic acid in the body. Vitamin B12 also helps the body manufacture red blood cells.
Biotin
Biotin provides a role in contributing to normal energy-yielding metabolism, functioning of the nervous system, macronutrient metabolism, normal psychological function, the maintenance of hair and skin and mucus membranes.
Vitamin B5
Vitamin B5 (also known as pantothenic acid) is vital for life. It is involved in energy production and the synthesis of hormones, fatty acids, proteins and neurotransmitters.
Potassium
Potassium is a macro mineral (needed in large quantities by the body) It plays a central role in energy production, communication and transport of messages across cell membrane walls. It is therefore vital for nerve transmission and electrical signals, which control heart rhythm.
Calcium
Calcium is a mineral that builds strong bones and teeth. It is instrumental in blood clotting and regulates muscle contractions, including the heart.
Phosphorus
Phosphorus is a mineral that helps build strong bones and teeth. It releases energy from food and maintains the pH balance of blood. It is also part of myelin, which protects each nerve cell.
Magnesium
Magnesium is a macro mineral. It is involved in energy production, bone health, regulation of heart rhythm, nerve transmission and muscle function.
Iron
Iron is a component of the molecule haemoglobin red blood cells, which is responsible for carrying oxygen around the body.
Zinc
Zinc is a mineral and is a trace element (required in small amounts by the body). It helps wounds heal and also helps process proteins, fat and carbohydrates from food. It is instrumental in making new cells, enzymes and hormones in the body. Zinc also helps in sperm production and is vital for healthy foetal growth.
Copper
Copper is an essential trace mineral necessary for survival. It is found in all body tissues and plays a role in making red blood cells and maintaining nerve cells and the immune system. It also helps the body form collagen and absorb iron and plays a role in energy production.
Manganese
Manganese is a trace mineral, which your body needs in small amounts. It's required for the normal functioning of your brain, nervous system and many of your body's enzyme systems.
Selenium
Selenium is a trace element that is needed for thyroid function and immunity. It is an antioxidant.
Chromium
Chromium is a trace element that plays an important part in the metabolism of carbohydrates, fats and proteins. It is particularly involved in blood glucose control.
Molybdenum
Molybdenum is an essential mineral in the body. It acts as a cofactor for four enzymes that are involved in processing sulphites and breaking down waste products and toxins in the body.
Iodine
Iodine is a trace element and a component of thyroid hormones, so is vital for life.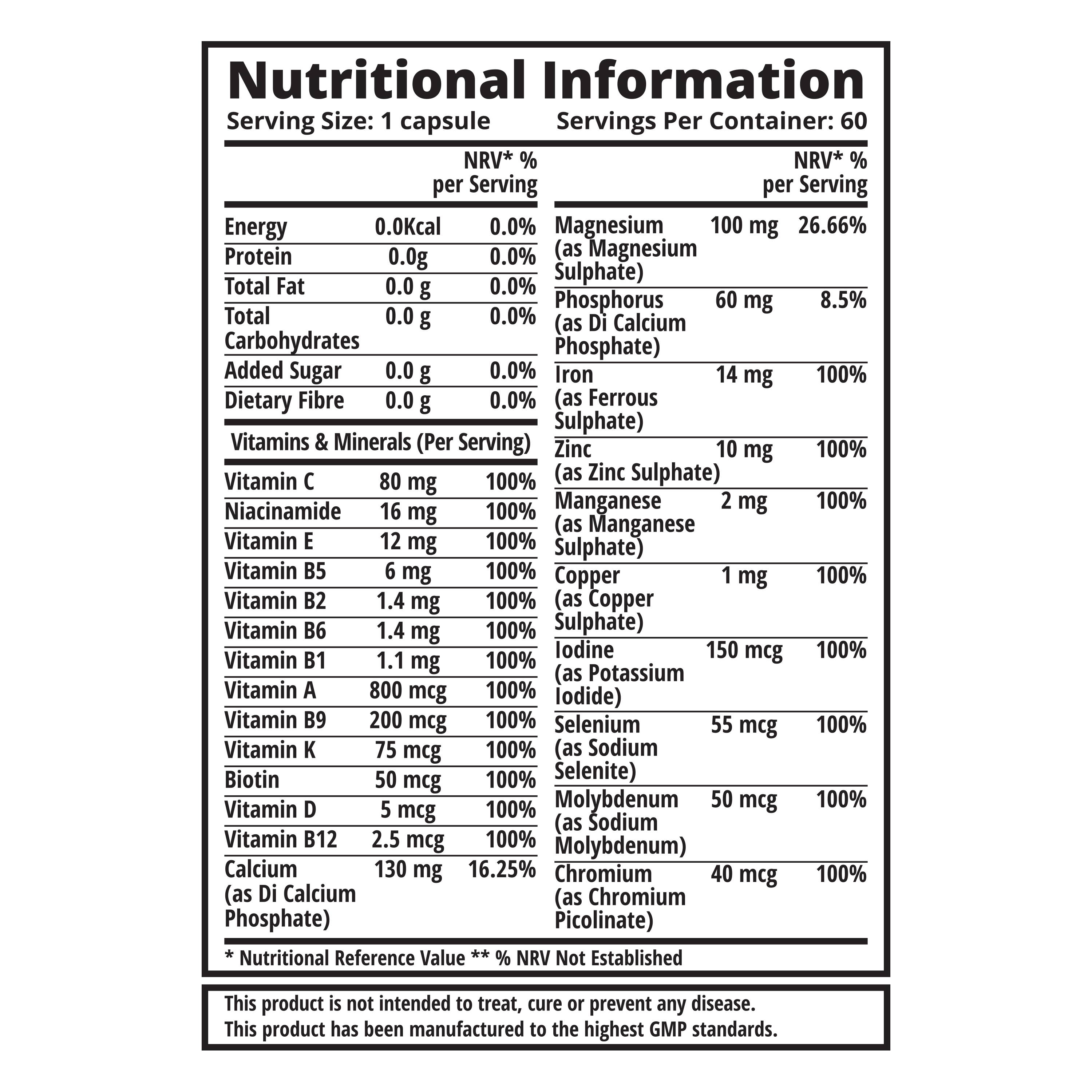 How many should I take a day?
Adults take one capsule daily with a full glass of water, preferably with breakfast.
We don't provide samples but the love we get for our products, we're sure you'll love them too!
Where are your products from?
We are a UK based company, sourcing our products from the best locations worldwide. The facility we choose to manufacture our goods is cGMP certified through NSF. We have found it to be the safest and most professional manufacturer of its kind.
Are there any contraindications to taking Multivitamin & Minerals?
Our products are generally food based supplements so should have no contra-indications, unless you have a health condition or take medication which requires an avoidance of any of the listed ingredients. We advise that you always consult your GP or medical adviser if you have any medical concerns or are pregnant or breastfeeding.
What are the capsules coated in?
Our capsules are vegetable capsules (also referred to as empty vegetarian capsules) that consist of only two ingredients: HPMC and purified water. HPMC – Hydroxy propyl methyl cellulose – is derived from vegetable cellulose. Our capsules are therefore 100% natural, contain no preservatives, gelatin, wheat, animal by-products or starch, and they are made from pure cellulose of either pine or poplar.