Super Greens with Matcha Green Tea and Superfoods
Plant Based Antioxidant and Immunity Support
Tired? Slow metabolism? Lack of focus?
Our Organic all in one Super Greens capsules are an essential part of everyday health and well-being. One capsule contains all of the essential vitamins, minerals, digestive enzymes and antioxidants your body requires. Easily consume 13 superfood and organic ingredients with each serving. Supplying your body with the necessary vitamins and minerals in one go.
For over 1000 years Matcha Tea, a traditional Japanese tea, has been used for its extensive health benefits; including boosting energy levels (without a crash), cleansing the body and even encouraging weight loss, an ideal coffee replacement.
Free Shipping
Free shipping is avaialble on all UK orders!
Adults take one capsule 1-3 times daily with a full glass of water.
Ingredients
Organic Wheat Grass Powder, Organic Barley Grass Powder, Organic Parsley Leaf Powder, Organic Kale Powder, Organic Broccoli Powder, Organic Spinach Powder, Organic Chlorella Powder, Organic Spirulina Powder, Organic Alfalfa Powder, Organic Beet Root Powder, Ginger Root Extract, Astragalus, Citrus Bioflavonoids
Free From
Non GMO
Vegan
No Artifical Preservatives
Gluten Free
No Added Sugar
No Binders
Nutritional Information
Nutritional Information
Each serving (1 capsule) contains
NRV* %
Energy
0.0Kcal
0.0%
Protein
0.0g
0.0%
Total Fat
0.0g
0.0%
Total Carbohydrates
0.0g
0.0%
Added Sugar
0.0g
0.0%
Dietary Fibre
0.0g
0.0%
Green & Superfood Blend
Organic Spirulina Powder
300mg **
Organic Wheat Grass Powder
Organic Barley Grass Powder
Organic Chlorella Powder
Organic Parsley Leaf Powder
Organic Broccoli Powder
Organic Beet Root Powder
Organic Spinach Powder
Organic Kale Powder
Organic Alfalfa Powder
Organic Ginger Root Extract
50mg
**
Liquorice Root
50mg
**
Astragalus Root
50mg
**
Citrus Bioflavonoids
50mg
**
Acai Berry Extract
50mg
**
Green Tea Extract
50mg
**
* Nutritional Reference Value ** % NRV Not Established
This product is not intended to treat, cure or prevent any disease.
This product has been manufactured to the highest GMP standards.
Delivery is Royal Mail 48 Hours Tracked so please allow 2-3 working days for delivery. You can track your item with the tracking details provided at checkout.
Organic Wheat Grass Powder
Wheatgrass provides an excellent source of minerals; it contains a significant amount of iron, phosphorus, magnesium, manganese, copper, and zinc. It is also a rich source of tocopherol with high vitamin E potency, meaning that it helps to prevent cell damage from free radicals.
Organic Barley Grass Powder
Barley Grass is naturally high in many key nutrients; iron, copper, folic acid, B6, B12, and protein. These nutrients are vital to maintaining the body's haemoglobin levels and are used in the formation of red blood cells. Barley Grass also supports the immune system as it contains high levels of vitamin C. This helps the body to fight off infections, both bacterial and viral.
Organic Parsley Leaf Powder
Parsley contains high levels of a flavonoid called apigenin. Not only does apigenin possesses anti-cancer properties, it is also a powerful anti-inflammatory and antioxidant.
Organic Kale Powder
Kale contains many minerals that are beneficial to health; phosphorus, potassium, calcium, and zinc. They also contain high levels of Vitamin A, C, and K, as well as Folate, a B vitamin that is essential for brain development.
Organic Broccoli Powder
Broccoli is a nutritional powerhouse full of vitamins, minerals, fibre content and antioxidants. The high fibre is thought to improve digestive health. It is also rich in iron which contributes to the reduction of tiredness and fatigue.
Organic Spinach Powder
Spinach powder is packed full of a long list of vitamins and minerals including iron, vitamin A, vitamin B2, vitamin K, manganese, magnesium. It is thought to help increase energy levels, support healthy bones and teeth, support the immune system and red blood cell maintenance and reduce inflammation.
Organic Chlorella Powder
Chlorella is often referred to as a superfood because of its impressive nutritional profile. It contains a small amount of magnesium, zinc, copper, potassium, calcium, and folic acid, as well as other important B vitamins useful for brain function1. It is also considered a good source of protein as it contains all 9 essential amino acids.
Organic Spirulina Powder
Spirulina is said to be one of most nutritious foods on the planet. It is loaded with various nutrients and antioxidants such as; protein, vitamins B1, B2, B3, copper and iron, which benefit the body and the brain. Spirulina's main active component is called phycocyanin; a fantastic source of antioxidants that can protect against oxidative damage. It fights free radicals and inhibits the production of inflammatory signalling molecules, providing impressive antioxidant and anti-inflammatory effects.
Organic Alfalfa Powder
Alfalfa is a valuable source of important nutrients; including calcium, phosphorus, iron, potassium, magnesium, essential enzymes, amino acids and choline. It contains vitamins A, D, K and E and studies indicate that it could be used to lower blood cholesterol levels.
Organic Beet Root Powder
Beetroots are packed with Vitamins A, B6, and C, calcium, iron, folate, phosphorus, potassium, calcium, proteins, and potassium. Naturally, beetroot is a rich source of antioxidants. The majority of the calories from beetroot can be derived from organic sugars. Consuming foods with fruits and vegetables provides you nitrates and other chemicals that help decrease blood pressure and reduces your chance of cardiovascular disease. Maintaining high dose nitrate beverages has been proven in research studies to possess short-acting advantages in blood pressure and enhanced blood circulation.
Ginger Root Extract
Ginger root has powerful anti-inflammatory and antioxidant effects.
It also appears to be highly effective against nausea and can relieve sickness and vomiting following surgery, and in cancer patients undergoing chemotherapy.
Astragalus
Astragalus is a herb that has been used in traditional Chinese medicine for centuries. It many purported health benefits, including immune-boosting, anti-aging and anti-inflammatory effects. It is believed to prolong life and used to treat a wide variety of ailments, such as fatigue, allergies and the common cold. It's also used against heart disease, diabetes and other conditions.
Citrus Bioflavonoids
Citrus bioflavonoids are powerful antioxidants that help to protect cells from free radicals and oxidation. The antioxidant properties of citrus bioflavonoids are thought to be particularly beneficial for capillary strength by helping protect collagen.
Citrus bioflavonoids may also promote healthy circulation, as well as immune, cognitive and joint health.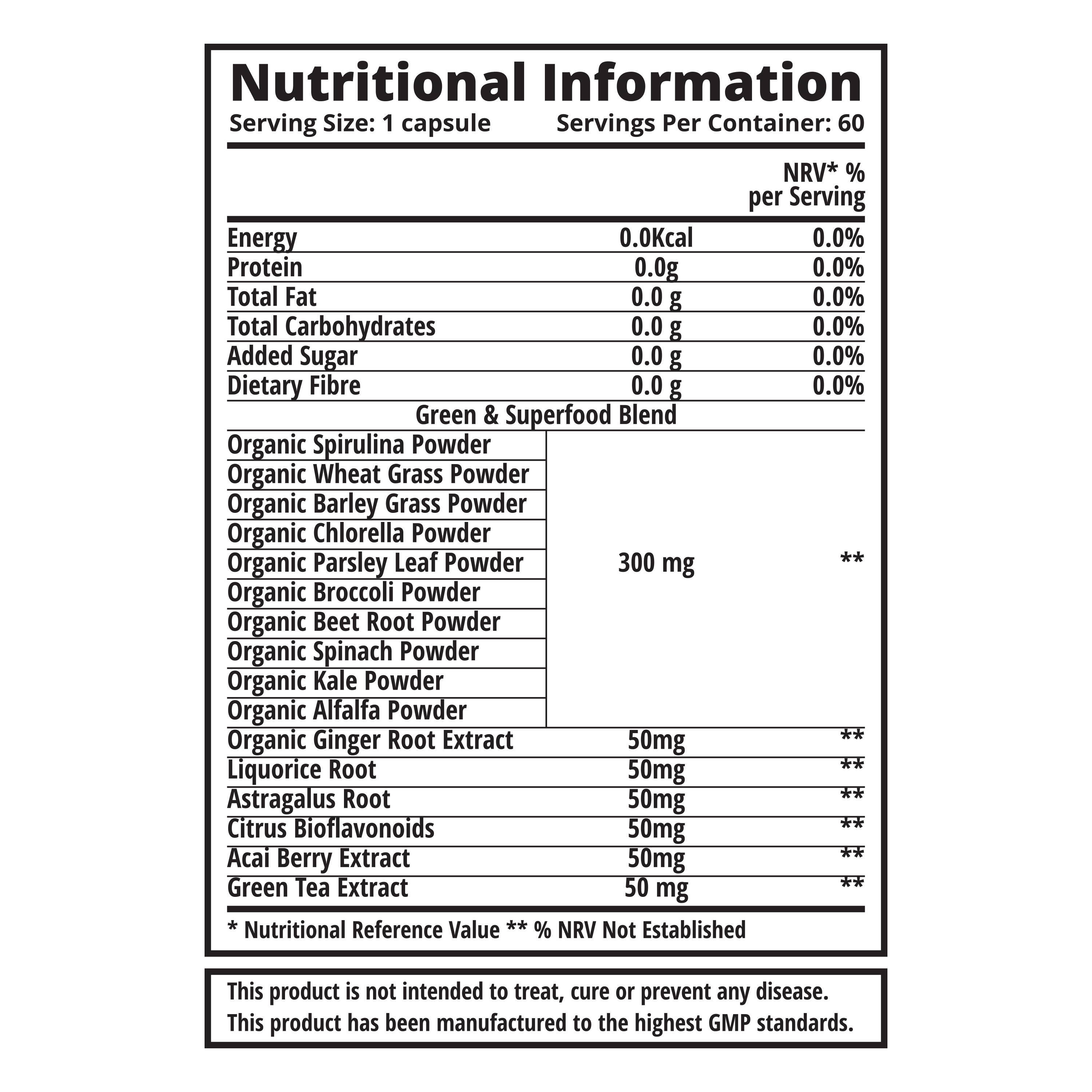 Adults take one capsule 1-3 times daily with a full glass of water.
High Bioavailability
With premium ingredients that include organic kale, wheat grass, broccoli, barley grass, chlorella, spirulina and spinach, our Super Greens provides the equivalent of up to 5 servings of vegetables in just 1 capsule. Factor-in ginger root extract, astragalus, bioflavonoids and other natural ingredients and our green superfood delivers a full day's nutrition in 1 easy to take capsule.
10+ Super Greens
Scientifically formulated to be an all-in-one source of vitamins, minerals, antioxidants and carotenoids, Super Greens works to deactivate free radicals that lead to oxidative damage. This reduces your susceptibility to inflammatory conditions so that your immune and circulatory systems can detox and cleanse your body for overall health and wellbeing.
Skip The Coffee
This energy-boosting formula supports a reduction in acid overload and makes it easier for your body to get the nutrients it needs. By increasing your intake of healthy alkaline-forming ingredients, Ultimate Blend Super Greens gives you a quick surge of energy without the sugar, caffeine or other stimulants and without their ensuing crashes.
Our capsules are vegetable capsules (also referred to as empty vegetarian capsules) that consist of only two ingredients: HPMC and purified water. HPMC – Hydroxy propyl methyl cellulose – is derived from vegetable cellulose. Our capsules are therefore 100% natural, contain no preservatives, gelatin, wheat, animal by-products or starch, and they are made from pure cellulose of either pine or poplar.